Balancing

Number

20

Air Date

25 April 1997

Director

Vic Finch

Previous

Next
Balancing
is the 20th episode of the original series. It first aired on 25th April, 1997.
Plot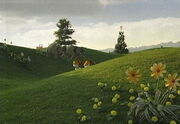 The Teletubbies run along the hills and then they run back again. They then do the Running Away Dance.
The Magic Windmill
spins and the Teletubbies go off to watch some girls learn about balancing. Later, the Teletubbies take turns to stand on one leg. Afterwards, the Windmill starts to spin and the Teletubbies watch the Animal Parade march through
Teletubbyland
. Afterwards, the Magic Windmill stops spinning and it's time for Tubby Bye-Bye.
Featuring: Jessica Moffat and Lauren Adlington
Trivia
After the sun baby giggles, the scene where the Teletubbies hears the Elephant Trumpet sound was cut, this was the second time that happens, the first was Ned's Bicycle.
Tinky Winky was the boo shouter
Po was the missing teletubby
Watch Episode