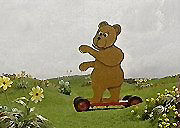 Becky and Jed Finding Eggs

Number

117

Air Date

30 December 1997

Director

Vic Finch

Previous

Next
The Teletubbies are sliding down the slide before watching Becky and her friend Jed find eggs at a farm. Later, they watch the Lion and Bear play hide and seek in Teletubbyland. Afterwards, the Teletubbies do the Running Away dance before Tubby Bye-Bye.
Featuring: Jed Clemmett, Becky Murray and Anne-Marie Walker
Plot (US American Version)
Po plays with the levers on the control panel. Then the Teletubbies watch Becky and Jed look for eggs on a farm. Laa-Laa and Dipsy have a messy accident with the Tubby Custard. They both tread in some Tubby Custard, so the Noo-Noo tidies up, again and again. All the Tubby Custard gets mixed up inside the Noo-Noo and he shoots all out onto the doors. Finally, it's time for Tubby Bye Bye.
Trivia
This episode is renamed Becky and Jed Find Eggs in the US, and instead of the Lion and Bear sketch, there is a sketch showing Dipsy and Laa Laa ending up in all sorts of sticky messes. This is because the Lion and Bear sketch was banned in America by PBS Kids.
In the UK version, when the Teletubbies arrive at their destination, part of the Windmill's theme and sound effects can be heard playing in the background when the very scary music is playing. This also happens in Dentist.
The Becky and Jed Finding Eggs video was featured in the VHS Hide and Seek.
This is the first episode where the Teletubbies giggle during the Running Away Dance. It is also the first episode with the shortened version of the dance.
Dipsy was the boo shouter in both versions.
Dipsy was the missing teletubby in the US version. Po was the missing teletubby in the UK version
Episode
Community content is available under
CC-BY-SA
unless otherwise noted.