Building a Barbecue

Number

21

Air Date

28 April 1997

Director

David G Hillier

Previous

Next
Building a Barbecue is the 21st episode of the original series. It first aired on 28th April, 1997.
Plot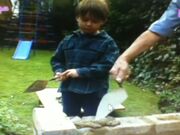 In Teletubbyland, The Teletubbies play boo and say 'Eh-Oh'. Then they rush off to watch a little boy called
Thomas
and his granddad building a barbecue in their garden. The Teletubbies then do the Splashing Dance by the Home Hill. A
Pink Spider
appears in
Teletubbyland
and frightens the flowers. But they realise that it's only a toy and suddenly it disappears. The Teletubbies have Tubby Custard outside when a voice trumpet rises and recites the nursery rhyme 'Little Miss Muffet'. The spider appears and frightens Laa-Laa, Dipsy and Tinky Winky away. But Po decides to frighten the spider away by waving her arms and kicking her legs at it. Then the spider disappears and the windmill stops spinning for Tubby Bye-Bye.
Featuring: David and Thomas Armstrong
Watch Episode
Trivia
This is the first episode where the narrator says 'One day in Teletubbyland something appeared from far away' when something appears.
The Little Miss Muffet segment was featured in the VHS Nursery Rhymes and the audio tape Fun with the Teletubbies.
Tinky Winky was the boo shouter.
The missing Teletubby was Laa-Laa.