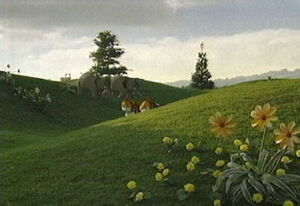 Cat's Night Out

Number

227

Air Date

20 October 1998

Directors

Vic Finch
Paul Gawith

Previous

Next
The Teletubbies walk down the path, into the house and up the other path. Then they watch Nathan talk about what his cat Grace does at night. Inside the house, Po wakes up and hears the other Teletubbies shouting outside. She runs out to them for a Big Hug. The Windmill starts spinning and they all watch the Animal Parade. The Teletubbies do the Walking Dance before Tubby Bye Bye.
Featuring: Nathan Grammell and Grace the Cat
Plot (US Version)
The Teletubbies watch a little boy talking about his cat and then, Dipsy and Laa-Laa sing their own so but when Tinky Winky and Po sing their song together, they find out how much fun it is to join in. The magic house appears.
Trivia
The Cat's Night Out video was featured in the VHS Bedtime.
Po was the boo shouter.
Dipsy was the missing teletubby.
Watch Episode
Community content is available under
CC-BY-SA
unless otherwise noted.