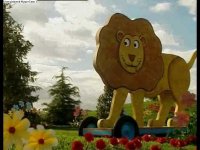 Colours - Brown

Number

282

Air Date

23 November 1999

Director

Paul Gawith

Previous

Next
The Teletubbies listen to a voice trumpet say 'How Now Brown Cow'. Then they watch some children explore the colour brown. In Teletubbyland, the Lion and Bear play hide and seek before the Magic Windmill stops spinning and it is time for Tubby Bye-Bye.
Featuring: The Children of Oxhey Infants School
Trivia
This was the last episode to show the original sketch of The Lion and The Bear. The next two episodes containing the Lion and Bear, Asian Storyteller (The Fox) and Dragonflies would have the edited sketch.
The How Now Brown Cow segment was featured in the VHS Animals Big and Small.
After the Windmill stops spinning, a fade effect is not used to transition into Tubby Bye-Bye. This also happened in Snowy Story, Irish Dancing, Tropical Fish, the Chinese versions of Asian Storyteller (the Fox) and Dragonflies and the US version of Colours-Blue.
Tinky Winky was the boo shouter.
Laa-Laa was the missing teletubby.
Brown Objects
Brown Potatoes
Brown Trees and Branches
Brown Car (not mentioned)
Watch Episode
Gallery
Community content is available under
CC-BY-SA
unless otherwise noted.