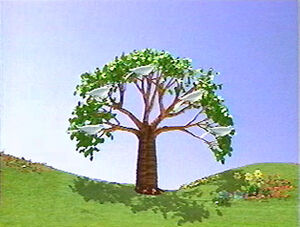 Crawling

Number

262

Air Date

3 August 1999

Director

Vic Finch

Previous

Next
The Teletubbies do a Conga line, until they watch some children crawling. Then the Teletubbies do some crawling. Tinky Winky crawls along the path, Dipsy crawls over the hill, Laa-Laa crawls between the trees and Po crawls round and round the flowers. The Teletubbies feel very tired, so they crawl all the way home and into bed. The Teletubbies fall asleep, then they're woken up by the windmill and they go to watch the Magic Tree. The Magic Windmill stops spinning and it is time for Tubby Bye Bye
Featuring: The Children of Weston Park Primary School, their families & friends
Plot (US Version): It's Time To Crawl!
Inside the Home Hill, Dipsy, Laa Laa and Po watch Tinky Winky eating his Tubby Toast. The windmill starts spinning and the Teletubbies runs out and watch some children crawling. Then the Teletubbies do some crawling. Tinky Winky crawls along the path, Dipsy crawls over the hill, Laa-Laa crawls between the trees and Po crawls round and round the flowers. The Teletubbies feel very tired, so they crawl all the way home and into bed. The Teletubbies fall asleep, then they're woken up by the windmill and they go to watch The Animal Parade before the sun screams afterwards. Then the Teletubbies do The Twisty Dance before the sun giggles for Tubby Bye-Bye.
Trivia
This is the last episode to re-use the Conga segment from Painting with Hands and Feet.
The Crawling segment was featured in the VHS Animals Big and Small.
The US Version of this episode has The Animal Parade and The Twisty Dance.
Also, the sun giggles instead of the Magic Windmill stop spinning animation in the US Version.
Laa-Laa was the missing teletubby in both UK and US Versions.
Tinky-Winky was the boo shouter in the UK Version. Laa-Laa was the boo shouter in the US Version.
Gallery
Watch
Community content is available under
CC-BY-SA
unless otherwise noted.