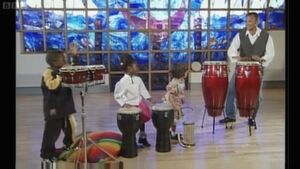 Drumming with Norris

Number

139

Air Date

2 April 1998

Director

Bob Jacobs

Previous

Next
The Teletubbies dance around the trees before watching some children drum with their friend Norris. Tinky Winky dances on top of the house which wakes up the other Teletubbies, then they all decide to dance. The Windmill starts spinning and they watch the Three Ships before the Windmill stops spinning for Tubby Bye-Bye.
Featuring: Norris Johnson with Pa Hasum Conteh, Masha Floris and Ivana Alana Haggar
Plot (US Version)
The Teletubbies watch Norris teach some children how to drum. Tinky Winky tries not to wake up the other Teletubbies when he dances on the roof. All the Teletubbies join in a stamping and stepping dance.
Trivia
This is the last episode to re-use the opening segment from Feeding the Chickens. This episode includes the opening shot from Feeding the Chickens but uses the same music from Naughty Cloud and Feeding the Sheep in Winter.
The Tinky Winky dancing segment was featured in the VHS Bedtime.
Po was the boo shouter.
Dipsy was the missing teletubby.
This is also the first ever episode directed by Bob Jacobs.
Watch
Community content is available under
CC-BY-SA
unless otherwise noted.