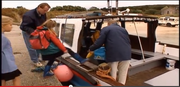 Noo Noo zooms around the house before the Teletubbies come to say Eh-Oh. The Teletubbies watch some children who live on the island then go to school by boat. Then a voice trumpet rises and the Teletubbies run over here and over there.
Featuring: Sam and Blue Philpott
Trivia
The Going to School by Boat video was featured in the VHS Busy Day.
Tinky Winky was the boo shouter.
Laa Laa was the missing teletubby.
Watch