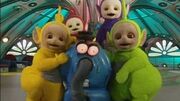 Gymnastics

Number

75

Air Date

19 September 1997

Director

Vic Finch

Previous

Next
The Teletubbies have fun creeping round the control panel and under the arch before watching some children doing gymnastics. Laa-Laa plays catch with the ball indoors but it starts to bounce around the house. The other Teletubbies help Laa-Laa try and catch the ball, but the Noo-Noo catches the ball first and tidies it up. The Teletubbies chase Noo-Noo until he gives Laa-Laa her ball back. The Teletubbies give Noo-Noo a Big Hug. Then the Magic Windmill stops spinning and it is time for Tubby Bye-Bye.
Featuring: The Children and Staff of Coventry Olympic Gym Club.
Trivia
The Laa-Laa's ball segment was featured in the VHS Favourite Things, and the US version of Bubbles.
Laa Laa was the boo shouter.
Dipsy was the missing teletubby
This is the first episode to use a new design of Noo Noo.
In Favourite Things, after Laa-Laa's ball segment, the Magic Windmill spins for the Magical Event, The Three Ships instead of Tubby Bye Bye.
Watch
Community content is available under
CC-BY-SA
unless otherwise noted.