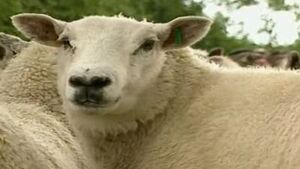 Herding Sheep

Number

80

Air Date

26 September 1997

Director

Vic Finch

Previous

Next
Some voice trumpets rise outside the house and make sheep noises. The Teletubbies watch Matthew, James, and Mark herding sheep. The Teletubbies go in and out, up and down, round the corner and along the top until it is time for tubby custard. The voice trumpet rises and the Teletubbies run outside to do Tubby Bye-Bye.
Featuring: Matthew, James and Mark Carnie
Plot (US Version)
The Teletubbies do the Running Away Dance and then they watch Matthew, James, and Mark herding sheep. A little lamb appears from far away. The little lamb feels sad. The Teletubbies want to make the little lamb happy. So Laa-Laa does a dance, Tinky Winky brings it over to the flowers, Dipsy lets it wear his hat and Po even lets it ride her scooter. But after all that, the little lamb is still sad. Suddenly, the Teletubbies hear a noise. Then another little lamb appears which makes the little lamb happy. Both the little lambs then leave Teletubbyland and then it's time for Tubby Bye-Bye.
Trivia
Po was the boo shouter. Dipsy was the boo shouter in the US version.
Laa-Laa was the missing Teletubby. Dipsy was the missing Teletubby in the US version.
The opening segment is re-used from Hickory Dickory Dock, but instead of ticking sounds, the voice trumpets make sheep sounds. When the Magic Windmill spins for the TV Event, the Teletubbies make sheep sounds whilst they are running off.
The Herding Sheep video was featured on the Playstation/PC game Play with the Teletubbies.
The US version had the Running Away Dance.
Episode