Hey Diddle Diddle

Number

44

Air Date

26 June 1997

Director

Vic Finch

Previous

Next
Dipsy and Laa Laa listen to a voice trumpet singing Hey Diddle Diddle. The Magic Windmill spins and then Laa Laa receives a video of some children dancing with
King Pleasure and the Biscuit Boys
as they sing 'Hey Diddle Diddle'. Then later inside the Tubbytronic superdome, a voice trumpet rises and sings the operatic version of Hey Diddle Diddle and the Teletubbies join in. The Teletubbies run around the Tubbytronic Superdome and the voice trumpet keeps singing Hey Diddle Diddle once more until the Teletubbies say 'Again, again!' But the voice trumpet goes down and the Magic Windmill starts spinning. Then the Teletubbies run out of the house with the Magic Windmill still spinning until moments later when it stops spinning and it is time for Tubby Bye Bye.
Featuring: King Pleasure & The Biscuit Boys, The Pupils of Chuckery Infants School, Walsall
Trivia
The King Pleasure and the Biscuit Boys video was featured in the VHS Bedtime.
The main Hey Diddle Diddle segment was featured in the VHS Nursery Rhymes.
When the Teletubbies go outside before the windmill stops spinning, there are sparkles coming the windmill. It's same clip from See-Saw, except in that episode, the windmill did not have sparkles.
Tinky-Winky was the boo shouter.
Po was the missing Teletubby.
This is the only episode that the voice trumpet sings opera during the Hey Diddle Diddle song.
This is both the fourth and last episode to have the video segment filmed at Birmingham Botanical Gardens. The other three episodes were The Grand Old Duke of York, See-Saw, and Humpty Dumpty.
This is also the last appearances of Al Gare, Jonny Boston, and Chris Shirley. 
This is also the last episode where Mark Skirving wears a yellow double-breasted suit.
This is the first episode with the 'VROOOOOOM' sound that would be used when the tubbies and often the Noo Noo run around the controls and the slide.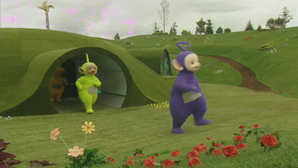 Goofs
When the Teletubbies run outside after watching the windmill, Laa-Laa runs out first, then Dipsy, Tinky-Winky and Po. But then when it cuts to the outside, Tinky Winky is first, then Dipsy, Laa-Laa and Po.
Also after they say 'Uh-Oh!' they run out the back doors and when it cuts to the outside, they're running out the front doors.
Watch Episode
Community content is available under
CC-BY-SA
unless otherwise noted.