Lambs



Number

6

Air Date

7 April 1997

Director

Vic Finch

Previous

Next
Lambs
is the sixth episode of the series. It first aired on 7th April, 1997.
Plot
Inside the Teletubbies' Home Hill, Tinky Winky is making some adjustments. Then the Magic Windmill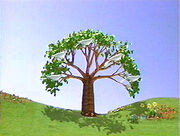 starts to spin and the Teletubbies watch Matthew, James and Mark feeding their lambs.
Later, the Teletubbies are asleep, until Dipsy makes some adjustments which wakes up the other Teletubbies. He shows them a special tune that he plays when he presses the buttons on the control panel (Baa Baa Black Sheep). The Teletubbies have fun dancing to the music. Then the Windmill starts to spin and the Teletubbies rush outside to watch a Magical Event.
The Teletubbies hear beautiful music in the distance and they head towards it. They stop outside the Home Hill and gasp in wonder as a Magic Tree starts to grow, along with leaves and five doves appear too. After the tree and the doves are gone, the Magic Windmill stops spinning and it is time for Tubby Bye-Bye.
Featuring: Matthew, James and Mark Carnie
Trivia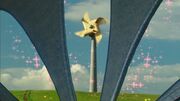 This is the very first episode to have The Magic Tree.
This episode also has the rare window version of the normal Magic Windmill animation and also this is the very first time this animation has appeared. 
The boo shouter was Po
This is the first episode when Dipsy is picked for the TV Event.
Goofs
In the scene when Tinky Winky makes adjustments, The Tubby Custard Machine is missing.
Watch Episode