Look! is a Teletubbies video. It was released on VHS/DVD in 2003 by Ragdoll Productions and BBC.
Featuring: Tarik Cassim, Gabriel Waddingham, Jay Simpson, Camille St Omer, Kevin & Kirsten Jarin
Teletubbies Everywhere- International Inserts: NAMIBIA - Virginia Witts, FRANCE - Jean Stephane Sauvaire, INDIA - Chrysalis Films
Includes
Teletubbies Everywhere
Kites (India)
Collecting Garnets (Namibia)
Teletubbies
Includes (US Version)
Teletubbies Everywhere
Collecting Garnets (Namibia)
Carousel (France)
Teletubbies
Happy Pattern (From Pebbles)
Mirror (From Eid's New Clothes)
Po at the Control Panel (From Frogs)
Different Clouds (From Mark Making Pictures)
Trivia
Unlike Oooh!, Again Again and Naughty Noo-Noo!, this video and What's That? include 2 Teletubbies episodes before the intro.
The UK cover is Yellow and Laa Laa is the closest, the US cover is Red and Po is the closest.
Laa Laa was the boo shouter in UK version. Dipsy was the boo shouter in US version.
Tinky Winky was the missing teletubby in UK version. Laa-Laa was the missing teletubby in US version, but both the Teletubbies Everywhere and Teletubbyland segment.
Before the Photo Faces TV event, the Magic Windmill spins with the Magical event tune
In the US Version, The Lion and Bear is Replaced by Little Bo Peep because it was banned in the US.
This is the second Warner Home Video VHS to have a Teletubbies Everywhere episode.
Watch
Cover gallery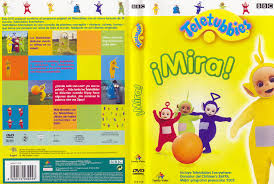 Community content is available under
CC-BY-SA
unless otherwise noted.