Merry Christmas, Teletubbies! Volume 1: Dipsy and Laa-Laa's Presents was a video released in 1999 in the US.
Featuring: Lewis Evans, Elliott and Jazzmin Fairhurst-Groethe and Anne Marie-Tuckwell; Naomi Adeniji, Desmond, Ella and Lilly Ainsworth and Saalim Koomar; Nadia Khan and Sam Whittaker
Segments/Chapters List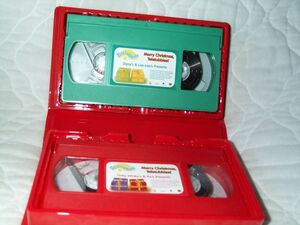 Christmas is a Coming
The Christmas tree appears in Teletubbyland
Jingle Bells
Laa-Laa's Present
'Twas the Night Before Christmas
Dipsy's Present
Trivia
Tinky-Winky was the missing teletubby and boo shouter.
This was the 1st tape to use the new PBS Kids IDS from 1999 with Dot and Dash.