My Mum's Keyboard

Number

33

Air Date

14 May 1997

Director

David G Hillier

Previous

Next
My Mum's Keyboard
is the 33rd episode of the original series. It first aired on 14th May 1997.
Plot
In Teletubbyland, the Teletubbies march up and down a hill before watching two boys play with their Mum's keyboard. Inside the Superdome,
Dipsy
 is about to have Tubby Toast when the control panel starts making noises. Dipsy decides to make some adjustments. The control panel starts to play the tune to 'Here we go round the Mulberry bush' and Dipsy dances along to it. Suddenly the
Noo-Noo
tidies up Dipsy's Tubby Toast. When Dipsy chases the Noo-Noo, the control panel plays the tune again. Then the
Magic Windmill
spins and the Teletubbies watch the
Magic House
before Tubby Bye-Bye.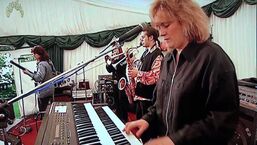 Featuring: The Word Girl with Greg & Mathew Tierney
Trivia
This is the first episode where the Puppet sings on the Top Right Window.
The Teletubbies marching segment was featured in the VHS Dance with the Teletubbies.
The My Mum's Keyboard video was featured in the German version of Nursery Rhymes instead of King Pleasure and The Biscuit Boys singing the Grand Old Duke of York.
The main segment in this episode was later re-used in Paddling Pool but cut shorter.
Dipsy was the boo shouter.
Tinky Winky was the missing Teletubby.
Watch Episode