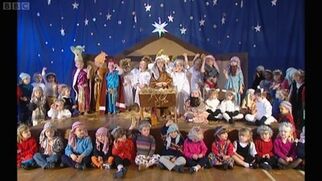 Nativity Play

Number

240

Air Date

25 December 1998

Director

Vic Finch

Previous

Next
Tinky Winky eats some Tubby Toast when he remembers the snow. The Teletubbies watch some children perform a Nativity Play. Then they make some snowballs. All the snowballs are different sizes, so the Teletubbies decide to use their snowballs to make a Snow Tubby. Po's snowball is used for the Snow Tubby's body. Dipsy's snowball is used for the Snow Tubby's head. Tinky Winky and Laa-Laa's snowballs are used for the Snow Tubby's arms. They all love their Snow Tubby so much they give it their favourite things. Then some eyes and a big smile appear on the Snow Tubby and the Teletubbies dance around the happy Snow Tubby as it snows.
Featuring: Overdale Nursery School, Scarborough
Plot (US Version)
Trivia
Both the Nativity Play video and the Snow Tubby segment were featured in the VHS Teletubbies and the Snow.
Tinky Winky was the missing teletubby.
Laa Laa was the boo shouter.
The last episode to feature the snow.
Episode
Community content is available under
CC-BY-SA
unless otherwise noted.