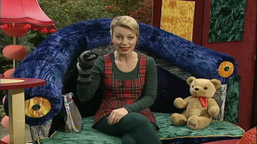 Naughty Sock

Number

4

Air Date

3 April 1997

Director

Vic Finch

Previous

Next
Naughty Sock
is the fourth overall episode of
Teletubbies
.
Synopsis
The Teletubbies pop out from behind some hills and say 'Eh-Oh'. Then they watch Tamzin Griffin as the Funny Lady. She tells a story about a 'Naughty Sock'. Inside the house, Dipsy tries to fall asleep. He is distracted by the Noo-Noo being too noisy. Then, a voice trumpet rises and plays a soft piano version of 'Rock-a Bye Baby' which sends Dipsy off to sleep. Outside, Tinky Winky, Laa-Laa and Po are playing Jumping. Suddenly, a voice trumpet appears and plays the soft piano version of 'Rock-a Bye Baby'. Tinky Winky, Laa-Laa and Po then fall asleep. The Magic Windmill then starts spinning and the Teletubbies wake up and run away and then the Magic Windmill stops spinning for Tubby Bye-Bye.
Featuring: Tamzin Griffin, The Staff and Pupils of Chater Infant's School, Watford
Trivia
Tinky-Winky is the boo shouter.
Laa-Laa is the missing Teletubby.
This episode marks the first appearance of the Funny Lady and the Talking Flowers.
This is the first episode to include the alternate version of the Right path 1 opening shot.
This is the first episode where the windmill stops spinning without a magical event.
This is the only episode where a Funny Lady video plays twice.
The Teletubbies sleeping segment was featured in the VHS Bedtime.
Watch Episode
Community content is available under
CC-BY-SA
unless otherwise noted.