Numbers - 8

Number

90

Air Date

10 October 1997

Director

Vic Finch

Previous

Next
The Teletubbies walk around some hills and fall down. Then the
Teletubbies
watch some children learning about the number '8'. Then eight clouds appear in
Teletubbyland
,
Laa-Laa
bounces her ball eight times,
Dipsy
counts eight flowers and
Tinky Winky
does eight turns. The
Animal Parade
marches through Teletubbyland and the
Magic Windmill
stops spinning for
Tubby Bye-Bye
.
Featuring: The Children of Duncombe School, London
Plot (US American Version)
The Teletubbies walk around Hills and fall down, then the Teletubbies watch some children learning about the number "8". Then eight magic clouds appear in Teletubbyland, Laa-Laa bounces her ball eight times, Dipsy counts eight flowers and Tinky-Winky does eight turns. Soon the Windmill spins and the Teletubbies go to watch the Magic House with a Singing Puppet man singing on the Top Left Window. Then it is time for Walking Dance and the "Tubby Bye-Bye" sequence takes place.
Featuring: The Children at Treasure Island School, Florida
Notes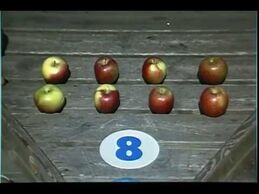 The opening segment is re-used from Making Flowers but with different music. This episode's version was later used again in The Pier.
This episode was featured on the DVD Teletubbies: Happy Birthday!
The US Version of this episode has a different Numbers "8" video with American children, the Magic House (Top Left Window), and the Walking Dance. Also the Magic Windmill Stop Spinning animation gets replaced by the sun giggling after the Magic House in the US Version.
Dipsy was the boo shouter in the UK Version, In the US Version, Po was the boo shouter.
Laa Laa was the missing teletubby in the UK version, but Tinky Winky was the missing teletubby in the US Version.
8 Objects (UK Version)
8 Bottles
8 Children
8 Buses
8 Apples
8 Dustbins
8 Objects (US Version)
8 Mailtrucks
8 Children
8 Pelicans
8 Children (again)
8 Feet
8 Fire Rescue Trucks (ambulances)
8 Flags
8 Sandcastles
8 Earth Movers (diggers)
Episode
Community content is available under
CC-BY-SA
unless otherwise noted.