Oooh! is a Teletubbies video. It was released on VHS/DVD in 2003 by BBC and Ragdoll Productions.
Featuring: Alessandro Rasulo, Rebecca Thomas, Jean-Rene Badrick, Rachel Cann, Daniel & Rachel Goldberg, Alice Greenwood, Talbah Khan and Finbar Lenahan
Teletubbies Everywhere- International Inserts: INDIA - Chrysalis Films, KOREA - KBS, SPAIN - Televisio' de Catalunya, SA
Includes
Teletubbies Everywhere
Flower Planting (Chile) (UK version)
Kites (India) (US Version only)
Peacocks (Korea) (US Version only)
Teletubbyland Segments
Special Features (US Version only)
Goofs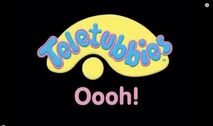 Despite Dipsy was the missing Teletubby in the US version, the audio of Po was missing the Teletubby can be heard in the background.
Trivia
This was the first video to have a title card before the intro.
Po was the missing Teletubby in the UK version. Dipsy was the missing Teletubby in the US Version.
Dipsy was the boo shouter in both versions.
The UK and US cover are both purple and Tinky Winky is the closest.
This was the last VHS release by Warner Home Video in the US.
In the Indonesian version, the Teletubbies love each other very much logo after Teletubbies Everywhere segment but it in cut scene.
This was the last Warner Home Video VHS to have a Teletubbies Everywhere episode.
Watch
​Cover gallery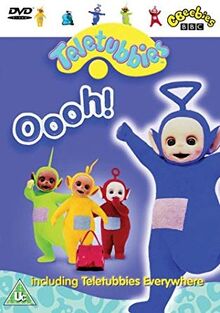 Community content is available under
CC-BY-SA
unless otherwise noted.