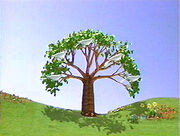 The
Teletubbies
dance an Up and Down Dance. They go off to watch some children painting pictures and patterns on eggs.
Laa-Laa
dances with her skirt and her ball. Then the Teletubbies watch
The Magic Tree
before
Tubby Bye Bye
.
Featuring: Jean-Rene Badrick, Rachel Cann, Daniel & Rachel Goldberg, Alice Greenwood, Talbah Khan and Finbar Lenahan
Trivia
This is the first episode with the Up and Down Dance.
Po was the boo shouter.
Dipsy was the missing teletubby.
Watch