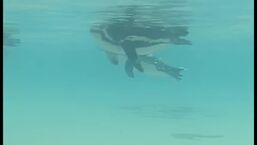 The Noo Noo zooms around inside the Home Hill before the Teletubbies come inside to say 'Eh-Oh!'. Then they watch some penguins waddling and swimming. In Teletubbyland, the Teletubbies walk in different ways until the Magic Windmill stops spinning (offscreen) for Tubby Bye Bye.
Featuring: Hannah MacKay, Alex, Jess & Jo Osborne and Catherine Watkins
Watch Episode
Trivia
Dipsy was the missing Teletubby.
Laa Laa was the boo shouter.