Not to be confused with the reboot episode of the same name.
Rolling

Number

29

Air Date

8 May 1997

Director

David G Hillier

Previous

Next
Rolling is the 29th episode of the original series. It first aired on 8th May, 1997.
Inside the Home Hill, the
Noo-Noo
tidies up Laa-Laa's ball. The Magic Windmill spins and the Teletubbies watch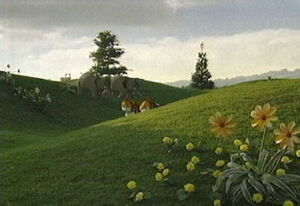 children rolling things up and down a hill. Later in Teletubbyland, Po falls off her scooter and rolls away. She rolls into Tinky Winky. Then Tinky Winky rolls into Dipsy. Then Dipsy rolls into Laa Laa. All the Teletubbies roll into the house. Their favourite things follow them. The Teletubbies run back outside with their favourite things and they have a Big Hug. The Magic Windmill spins and the Teletubbies watch the Animal Parade. Afterwards, the Teletubbies do the Tip Toe Dance before Tubby Bye Bye.
Featuring: The Children of The Croft School, Stratford-upon-Avon
Trivia
This is the first episode where the Teletubbies do the extended version of the Tip Toe Dance.
This episode was featured on the DVD Teletubbies: Happy Birthday!
Tinky Winky was the boo shouter.
Po was the missing teletubby.
Goofs
During the Rolling segment, when Tinky Winky hears Po rolling and asks 'What's That?', Po's aerial can be seen behind a hill before she appears on screen.
Watch Episode
Gallery
Community content is available under
CC-BY-SA
unless otherwise noted.