Roundy Round

Number

380

Air Date

27 November 2015

Director

Jack Jameson

Previous

Next
Tinky Winky, Dipsy, Laa-Laa and Po do a roundy round dance and watch children in Tummy Tales ride a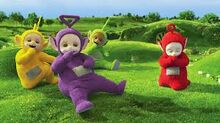 carousel which goes round and round too. Dipsy plays roundy round with the Tiddlytubbies before sleepy-byes.
Trivia
This is the fifteenth episode of the new series.
This is the first episode where Dipsy plays with the Tiddlytubbies.
Tinky Winky was the missing teletubby.
Laa Laa was the boo shouter but Po said goodbye for a final time.
This is the last episode of 2015. This is also the last episode before BBC stopped airing new episodes until 18 January 2016 with the episode New Toy.
This episode aired in the US on June 10, 2016.