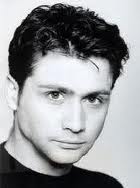 Simon Shelton Barnes (13 January, 1966 - 17 January, 2018) was a British actor and Ballet Choreographer. He was known for portraying Tinky Winky. He is the uncle of actress Emily Atack.
Simon Shelton took over the role of Tinky Winky after original performer Dave Thompson was sacked after 70 episodes. When Shelton began performing as Tinky Winky, he became both the suit performer and voice. Tinky Winky's voice was originally dubbed by Mark Heenehan in the episodes where Dave Thompson performed in the suit. In these episodes Tinky Winky was given a very masculine but very jolly voice. Simon Shelton's voice for Tinky Winky was still very jolly but more high pitched and child-like. In the 2015 reboot, 4 years before Simon Shelton's death, he was replaced by Jeremiah Krage.
Guest Appearances:
Today (2007) guest (as Tinky Winky and himself) (NBC)
The Paul O'Grady Show (2009) guest (as Tinky Winky) (Channel 4)
Death
On the morning of the 17th of January, 2018, 4 days after his 52nd birthday, Simon Shelton reportedly died from hypothermia after being found in the street near Liverpool Waterfront.
Fans were devastated when the news broke out about the actor's death, with many people including his niece, The Inbetweeners actress, Emily Atack, paying tributes to him online and sharing sympathy to his family and friends.
Five days after his death, John Simmit (Dipsy) posted a tribute on Twitter saying: 'What a week ! RIP Simon Shelton aka Tinky Winky : remembering the many good times. Rest easy'. The following day, Dave Thompson posted on Twitter: 'Sad to hear Simon Shelton, the other actor who played Tinky Winky, is no longer with us. He was a huge talent, my condolences to his family.'
Trivia
When the Teletubbies actors were on the US talk show 'The Today Show' in 2007, Simon Shelton shared his thoughts on the controversy where Tinky Winky was accused by an American pastor Jerry Falwell of 'being gay'. In the interview he stated: 'I found it amusing and quite staggering actually, because I just thought.. is it for real? I didn't know who he was. So I thought maybe this is someone trying to become famous'.
Community content is available under
CC-BY-SA
unless otherwise noted.