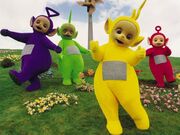 The Teletubbies are the title characters of the TV show of the same name. They are four characters who live in the grassy lovely place known as Teletubbyland. The Teletubbies love to play in Teletubbyland. They live in a dome well known as the Tubbytronic Superdome. The Teletubbies include the following:
They are encouraged by the Narrator and Voice Trumpets to do new things and activities each day. The Talking Flowers comment on their activities. The Baby Sun watches and laughs when funny things happen. The Rabbits can be seen running around Teletubbyland and they love the Teletubbies. The Magic Windmill tells the Teletubbies when it's time for TV Tummy or a Magical Event or Tubby Bye-Bye. They drink Tubby Custard and eat Tubby Toast if they want to.   
LATEST ON TELETUBBIES
June 2014: In England, the BBC announced it had ordered 60 episodes of a new series of Teletubbies to be aired, with DHX Media, which recently acquired Ragdoll Productions, producing the series. This marks the first new episodes of the series since 2001 and the first to be aired on CBeebies, after reruns of the original series were broadcast on the channel. However, the new series will be filmed on replica model sets instead of Wimpstone Farm in Warwickshire (the original setting for Teletubbyland) since a pond now exists where the Tubbytronic Superdome had been because Rosemary Harding, the owner of the farm, was fed up of fans of the show trespassing on her land.
April 2015: DHX has announced that Daniel Rigby was confirmed as the show's narrator, Fearne Cotton, Jim Broadbent were announced as the voices for the Voice Trumpets and Jane Horrocks will voice the Tubby Phone, a new device that transports the Teletubbies to the real world.
June 2015: still no actors for the roles of the individual Teletubbies have been announced. At around the same time on June 2nd, the images of the teletubbies and the set are released here is the photo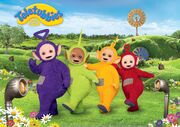 And on June 11th Nickelodeon has announced that they have got rights to air the Teletubbies in the United States.
Poll
Who is your favourite Teletubby?
Community content is available under
CC-BY-SA
unless otherwise noted.