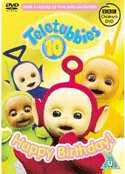 Teletubbies: Happy Birthday! is a DVD released in 2007 in celebration of the Teletubbies' 10th anniversary. It features top 10 Teletubby moments as voted for by readers of Mother & Baby Magazine. It also features 10 classic episodes.
Episodes:
Top 10 moments (All taken from the episodes mentioned above)
Noo-Noo tidies up Tubby Custard
The Animal Parade
The Dancing Bear
Where's Po's Scooter?
Exercises
Walking around the hills
The clouds turning into sheep
The Singing Man in the Pink House
The Three Ships
Tubby Toast on Laa-Laa's head
Trivia
This is the first DVD to include an episode with the original sketch of the Lion and Bear (Irish Dancing) ever since all episodes featuring this segment were banned from UK television in 2002. Other Lion and Bear episodes were later released on other DVDs. These were Autumn Fun (Leaves) and the Australian DVD Number Fun (Numbers - 2).
This is also the first DVD to include an episode with Little Bo Peep (Catherine's Toy Farm)
In Australia, Disc 2 is entitled "Many happy Returns".
Cover gallery
Community content is available under
CC-BY-SA
unless otherwise noted.