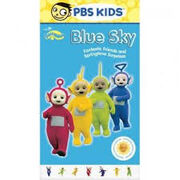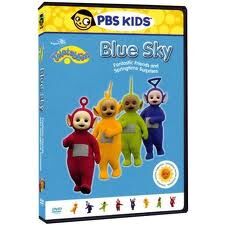 Teletubbies Blue Sky is released in 2006.
Featuring: Lewis Reynold & Mary Duncan, Madeline Jeapes & Sophia Scale
Teletubbies Everywhere- International Inserts: KOREA- KBS, GERMANY- KIKA
Teletubbies Everywhere Segments
Dipsy makes a circle
Laa Laa chases her ball
Counting three balls
Dipsy goes Up and Down
Marble Track (Germany)
Teletubbyland segments
1.Blue (From Colors Blue)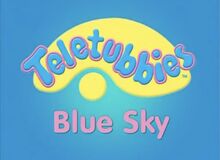 2.Po Scooters in the House (From Washing The Car)
3.Welly Walk
4.Walking (From Penguins)
5.Hanging Out The Washing
6.Kites (From Butterfly)
7.The Teletubbies lay down (From Swimming with Stephanie)
Special Features
1.Making Flowers
2. Where is Everything?
Trivia
This was the last Teletubbies video to be released on VHS, but the VHS version is extremely rare.
Dipsy Was The Boo Shouter but with the Tinky Winky ending.
Laa Laa was the missing teletubby.
Goofs
When the windmill spins for the Hanging Out The Washing TV transmission the magical event tune can be heard and 2 seconds later the TV transmission tune can be heard. Also, if you set it to the British audio, the Stop Spinning tune plasters the Magical Event tune also the Teletubbies giggle can't be heard after they fall on the ground.
In the opening to the 2006 VHS it shows the Dash ID but surprisingly the audio is from the Dot ID. This can also occur at the end of Teletubbies Naughty Noo Noo as well and Again Again. At the end of blue sky, it shows the Dot ID with the original audio from itself.
Teletubbies Blue Sky
Community content is available under
CC-BY-SA
unless otherwise noted.