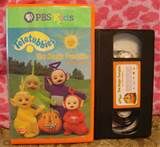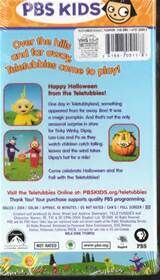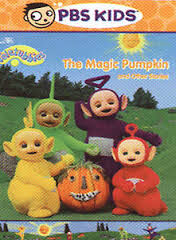 The Magic Pumpkin and Other Stores is a Teletubbies VHS/DVD. It was released on VHS in 2000 and re-released on DVD in 2004. This video was released exclusively in the US.
Featuring: Alexandria Moses, Toby & Mickey Whelan and Rosa Herxheimer, Andy Brown with Emily and Jack Baker, Jodie Wiltshire and Josh Reynolds
Includes
Teletubbies playing with their favorite things (From Pumpkin Face)
Pumpkin (From Pumpkin Face)
Dipsy's Windy Hat (from Naughty Pig)
Laa-Laa's Indoor Walk (From Clogs)
DVD Bonus Features
1. Messy Accidents (From the US episode Becky And Jed Find Eggs & Washing The Elephant)
2. Torches
Trivia
This video is considered a Halloween special.
Laa-Laa was the missing Teletubby.
When the Windmill spins for the Catching Leaves transmission, the start of the Magical event tune is playing at the same time as the start of the TV transmission theme.
This was the last VHS to use the old Ragdoll logo from the 90s (Screening Version Only). This is then followed by the PBS Kids Dash logo.
Community content is available under
CC-BY-SA
unless otherwise noted.