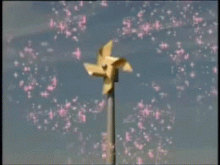 Favorite Windmill Animation
My Favorite Windmill Animation is the Start Spinning one(The one where it is the Stop spinning one gaining speed), I first saw this animation in the scene where Tinky Winky was Talking to Dipsy when i was extremely little(yes, i have that good of a memory), It was used mostly during the beginning of the TV Reciever sequence, It can be seen during the Magical Event sequence in the episode "Making Flowers" which is also the first apperance of this animation, You can view it on the right(both normal and slow version seen in haymaking)(click on the photos if you want to see them animated). 
My Favorite Episodes:
11. Rockpool
10 See-Saw
9. Larette Tap Dancing
8 The Gingerbread Boy
7 Stop and Go
6 Naughty Sock
5 Running (US Version)
4 Walking in the Woods
3 Making Flowers
2 Feeding the Chickens
1 The Helicopter
My Favorite Teletubbies VHS/DVD Exclusives:
10 Again-Again! (UK Version)
9 Oooh! (US Version)
8 Here come the Teletubbies
7 Dance with the Teletubbies
6 Uh-Oh! Messes and Muddles
5 It's Time to Run Around(it's really the US Version of Running on VHS)
4 Blue Sky(US Version)
3 Favorite/Favourite Things(both UK and US Versions, UK is better in my opinion)
2 Musical Playtime
1 Again-Again! (US Version)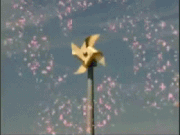 My favorite pages
Community content is available under
CC-BY-SA
unless otherwise noted.