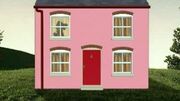 Wake Up

Number

72

Air Date

16 September 1997

Director

David G Hillier

Previous

Next
The Teletubbies have fun playing a game standing on a hill in different orders and calling out their names. Then they watch some children singing a wake up song with Alex Pascall. Then the Pink House appears. Inside the house, the Teletubbies play a waking up and sleeping game before Tubby Bye Bye.
Featuring: Alex Pascall with Swayze Bieshton, Tyrone Francis, Josh Kellerman, Jee Su Kim, Bethanie Sadler and Dwayne Stewart
Trivia
This is the last episode that has the original costumes as seen in Ned's Bicycle.
After the Magic House disappears, a fade effect is used for the next scene.
The Wake Up video was featured in the VHS Bedtime.
Laa-Laa was the boo shouter.
Tinky Winky was the missing teletubby.
This was the last episode to have Dave Thompson as Tinky Winky (suit performer) (but still appears in archive footage), and Mark Heenehan as Tinky Winky (voice) (but still can be heard in archive footage).
Watch
Goofs
During the opening segment, the windmill can be seen in the background. But when the Teletubbies run up to the hill one last time, the shot then fades and the windmill is then out of shot.
Community content is available under
CC-BY-SA
unless otherwise noted.